An "amalgamation" of fact creates a "fiction" that deludes reality. INFORMATION OVER-LOAD IN THE HUMAN MIND HAS CAUSED DELUSIONAL PERCEPTION OF FACTS THAT ARE DESIGNED BY SATAN TO CONFUSE AND DISTRACT MEN AWAY FROM YHWH.

This expose reveals critical understanding of what is going on within our society at large regarding the delusionary media, government and religion.

I am sharing insight regarding a "cause" of the growing number of symptoms of mental illness plaguing our current world and why it is so critical to understand the origin of unrelenting illogical conclusions that are being presented as reality in these final hours. I am certain that, our fallen state of mind, man is not capable of processing the massive amounts of data input every moment of every day that is made possible by current and developing technologies.

This data overload is corrupting logic and moral thinking, not allowing the human mind to accurately absorb information without distorting reality. This diabolical end-time incursion into the mind of men is designed with the intent to overwhelm the human brain beyond the ability to adequately process information and form righteous conclusions. Thank God for His Word to keep us on course in this most wicked hour.


The world will perish with leaders at the helm who have been overtaken by every evil thought, as it was in the days of Noah.
I was inspired to write on this subject after watching the recent CERN video released (below) and a claim that CERN was possibly creating an "alternative reality" that allegedly proves the infamous "mandela effect". I take issue with this delusionary conclusion regarding the mandela effect and I explain how theories like the mendela effect have a more nefarious origin and agenda.

I am however certain that CERN will or perhaps has already opened portals where demonic beings will affect man in these final hours and yet will never create a genuine parallel universe and or an alternative "reality" as this theory dismisses a Divine creation, plan and outcome that Jehovah has designed for this present age and the age to come. The "great gulf" between "here and there" will be maintained for now.

The "Mandela Effect" (Alternate Realities) theory is an ILLUSION!

Have you ever considered why "common sense" eludes humanity today and is replaced by delusionary perception?

The term "Common", sense is skewed and is no longer a relevant term for "good sense", as human thought is corrupted and "wounded minds" are incrementally inundated with an unlimited data feed from unlimited sources, creating a mental burden that is overwhelmed by information.

Contrived speculation develops rabbit trails that taint human acuity and result in an alleged "alternative reality" and subsequent obsession.

The "Mandala Effect" and "flat earth" theories are examples of obsessions that have successfully transitioned into a delusional conclusion and fester wickedness by preventing humanity from seeking TRUTH and salvation in Yeshua.

"And for this cause God shall send them strong delusion, that they should believe a lie:" 2 Thessalonians 2:11.

Today information "OVER-LOAD" has caused DELUSIONAL PERCEPTION of FACTS in the human mind that are designed by Satan to confuse and distract men away from YHWH.

The human mind, in its' present form, cannot process the copious amount of daily data input of information that is disseminated in a modernist world that IS adversely affecting the masses, resulting in various levels of mental duress and consequently new forms of mental illness that affect reason and sanity.

The "Mandela Effect" is another demonic distraction from Truth that is designed to expend energies away from relevant Truth of biblical PROPHETIC matters that directly affect humanity today in every way!

The "Mandala Effect" is nothing less than conclusions that are based on the "amalgamation" of fact and misperception of data, resulting in a convoluted world of lies and deception.

The human mind tends to consolidate information and "blend" or blur imagery and data over a period of time in order to achieve "easier recall" however, often resulting in tainted memories.

The reason that there appears to be a human "collective" recollection of events and imagery over a period of time that indeed IS both false and deceptive is due to the way that the human brain stores information.

A frequent example used by mandela effect propagators is the brand logo character, Mr. Monolpy of monopoly game fame and alleged "changes" to the character that seem to have "vanished" and never existed.

THIS IS THE FOUNDATION OF DELUSION THAT EXIST IN THIS FINAL HOUR THAT IS LEADING MEN TO FOLLOW DECEPTION INTO HELL.

NOW consider the company logo Mr. Peanut, with his monocle who strikes a familiar pose, (WITH a CANE in hand and TOP HAT), that loosely resembles the "millionaire" character Mr. Monopoly, who also holds a cane and wears a top hat, thus a memory is conceived blending the two images of past memory together in the human mind and creating an "alternate" memory, which is not an actual alternative dimension or "parallel universe" but rather a skewed memory of data. These are indeed most deceptive times.

Regarding "CERN" and the "Mendela Effect".

THERE IS a SPIRITUAL DIMENSION that WILL BE BREACHED and LEAD to the DESOLATION of MUCH of HUMANITY! There are other DIMENSIONS and CERN IS OPENING PORTALS of HELL that will SOON PLAGUE MANKIND!

Some entities have already gained entry into our human dimension however, 2021 will experience a major incursion of demonic principalities into our "world" that will affect the mankind in short order!

There is no turning back ... Only an expectation to meet our Savior Yeshua, "Face to face"!! Amen! MARK THESE WORDS, they are NOT my own! - BOZUNG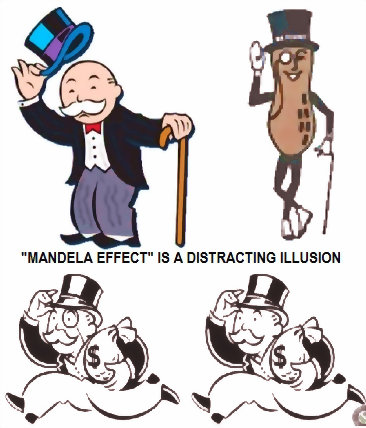 The "MANDELA EFFECT DELUSION"